DAVID FRANK – CEO
Designer & Developer
Aristotle Engineering is a family owned and operated business established in 2007. Growing up in the great state of Arizona gave me the opportunity to hunt all types of animals. I started out like most young men with my very own Red Rider and used it to chase birds.  Eventually I graduated to a .22 rifle. As I got older and more experienced, I found shooting rifles at longer ranges a challenging adventure. In 2009 I built my first AR-15 which became a great rifle for predator hunting. I started hunting an area that gave me the opportunity to shoot coyotes out to 400 yards. Shooting at that range needs a steady rest, so I carried my tripod along to set my AR on top of it for stability. It was then I began to pursue the idea of how to effectively lock the rifle in place.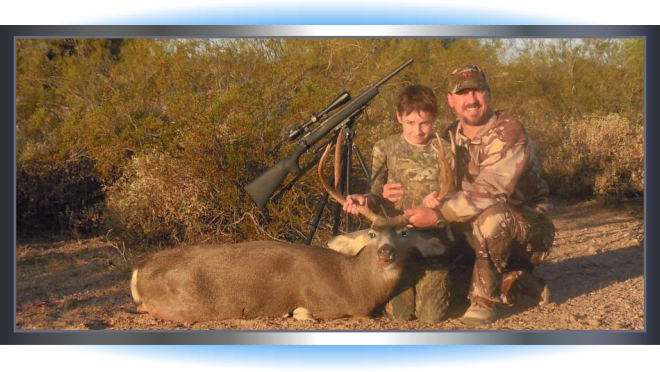 I started to work on prototypes and eventually designed the first generation LOC JAW. One of the advantages to this mount was the fact that my son, only nine at the time, could also hunt with the AR. Mounting the AR to my tripod allowed us to shoot the rifle more accurately at longer distances and help reduce recoil.
With the success of the LOC JAW, I started thinking of how it could be used with a bolt action rifle. I came up with several ideas, but wasn't quite sure how to bring it all together. I built some prototypes and mounted them onto a bolt action rifle. My final design was called the Rifle Railz. The first generation Rifle Railz bolted directly to the rifle and the LOC JAW slid onto the rail. The combination of both allowed the rifle to mount onto a tripod.
After several years of success with both the LOC JAW and Rifle Railz, minor redesigns of both products have transformed these into highly useful amenities. The LOC JAW is now smaller in length and weight, plus all the corners have been radiused for better comfort.  The second generation Rifle Railz is lighter, thinner, and designed so your tripod plate threads directly onto the Rifle Railz. This new design is more comfortable to the hunter while carrying the rifle.
We are proud to say our products are engineered, manufactured, and assembled in the state of Arizona with the highest quality materials with perfection in craftsmanship. We strive to retain the highest in customer satisfaction.